They are barbecue's equivalent of David in a city of Goliaths.

Stand-alone barbecue stands and independent restaurants in the Jacksonville area are competing against chains such as Bono's Pit Bar-B-Q, Woody's Bar-B-Qand Sonny's Real Pit Bar-B-Q.

You've seen the independents in out-of-the-way places, operating with little or no advertising. Sometimes, somehow, they stay open and give their corporate cousins a run for their money. Other times, they come and go before you have a chance to test the fare.

The many openings and closings makes it difficult for the National Barbecue Association to estimate the number of barbecue restaurants in Florida, Jacksonville or the United States, NBA spokesman Joe Phelps said.

Phelps, who publishes the Douglas, Ga.-based monthly National Barbecue News, said barbecue and barbecuing foster a spirit of competition and entrepreneurship. Several hundred barbecue contests are held every year all over the world, and, for some cooks, winning inspires a move into the business world.

Want a taste?

Tender Ribs, 5940 Atlantic Blvd., is open Monday through Thursday from 11 a.m. to 10 p.m.; Friday, 11 a.m. to midnight; Saturday, noon to midnight.
Blackjack B-B-Q, 4701 Shirley Ave., is open Monday from 11 a.m. to 7 p.m.; Friday, 11 a.m. to 8 p.m.; and Saturday from 3 to 8 p.m.
Cracker's, 445 State Road 13 in Julington Creek and 1515 County Road 210, is open Monday through Saturday from 11 a.m. to 9 p.m.

"Everybody has a recipe that they think is better than other people's," he said. "They want to try it out. You've got them mom-and-pop places. But I can't say they stay a long time."

To make a business out of barbecue, staying small isn't a viable option, Phelps said.

"You've got to go with volume to compete with the big boys," he said.

Jacksonville restaurant consultant Tom Borchert disagrees. He said the independents can survive as along as they provide convenience and friendly service.

"If these guys can get back to what McDonald's and Burger King were with fast, friendly service, more power to them," Borchert said. "That's the niche."

Barbecue has always been food of the people, by the people and for the people. It's relatively cheap, and it's easy to cook. Many have tried it on a backyard grill and added their own twists to it. But is trying to make a living from it culinary courage or financial folly?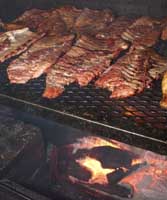 ---
"It's the heat and the time that we put into what we're doing," Duran Bailey said of his barbecue at Tender Ribs. "Right here, we've got home taste."
-- Don Burk/Staff
---
A look at three of Jacksonville's many barbecue businesses garnered mixed reviews.

Tender Ribs

Opening a barbecue restaurant was a declaration of independence for Duran Bailey, owner and cook at Tender Ribs on Atlantic Boulevard.

"I'm just a man who's going to march to the beat of his own drum," he said.

Bailey, 35, initially opened his restaurant on the Westside in 1998 after becoming disenchanted working as a longshoreman on the Jacksonville docks. In July 2000, he moved near the University Boulevard intersection, to a building that was a former Italian deli and a Taco Bell before that.

Bailey used $10,000 of his own savings to start the restaurant and now works 12 hours a day, six days a week to keep his labor costs down. The only advertising is the colorful writing on the windows, otherwise, he gets all his customers by word of mouth. Bailey calls it "grass-roots advertising."

"Every day I see a new customer, and that keeps me happy. That means I'm doing something right," he said. "That gives me the drive to get up every morning."

Chain barbecue restaurant Woody's operates a place around the corner from Tender Ribs. But Bailey, who looks like an NFL linebacker, isn't intimidated. He calls their fare "commercialized barbecue."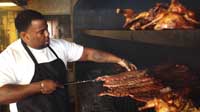 ---
Duran Bailey owns Tender Ribs on Atlantic Boulevard. He first tried the barbecue business on the Westside in 1998.
-- Don Burk/Staff
---
He can't buy food at the mass-quantity prices of the chain restaurants, but Bailey said he makes up for it by keeping low overhead costs and spending more time on the preparation to produce a different kind of barbecue.

"It's the heat and the time that we put into what we're doing," he said. "Right here, we've got home taste."

It's been 14 months since he opened, and Bailey said although he still hasn't turned a profit, he's getting closer all the time.

"It's coming around. I've got to be patient until the economy picks back up," he said. "It's hard right now, but I think it's got to change."

Blackjack B-B-Q

Blackjack B-B-Q is a family affair.

Two 30-something Jacksonville couples -- Rich and Vita Goldfarb, and Art and Lori Franco -- started the business in a former Skinner's Dairy stand on Shirley Avenue, off Blanding Boulevard, in May. The tiny place that serves only takeout is open only three days a week because all four owners have full-time jobs.

Cheap rent, no advertising and no payroll -- combined with a loyal customer base -- has allowed the business to get its financial feet under it, the owners said.

It started with an $11,000 investment. Five months later, the business is out of the red. The owners said they're starting to think about opening a full-fledged sit-down restaurant in a higher profile location.

Blackjack B-B-Q began with Rich Goldfarb and Art Franco cooking for themselves and then catering dinners for people who heard about them. They opened the Shirley Avenue stand almost as an afterthought.

"It's the same stuff we used to make at the house; we just brought it down here," Art Franco said. "We don't buy anything that's processed out there."

The two men said they'd quit their full-time jobs in a second to open a barbecue restaurant. Goldfarb owns a dry cleaning business; Franco is a tire salesman.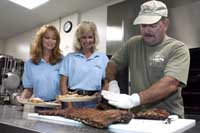 ---
Manager Pam Murphy (from left) and owners Mary and John Roach work in the kitchen of the St. Johns County Cracker's. The first Cracker's opened in Julington Creek.
-- Don Burk/Staff
---
"It's not like work being here," Goldfarb said. "It's for personal satisfaction. You don't get that at dry cleaning."

The business got its name from the type of wood used to cook the meat.

The two couples meet at the stand every Thursday afternoon to get ready for customers Friday through Monday. They call it "prep night," and it takes five hours to prepare all of the menu items.

The stand is closed on Sundays, but Blackjack B-B-Q still does special orders for Jaguars fans and catering jobs.

It's an 18-hour process to produce the ribs, beginning with marinating and starting to smoke them at 4:30 a.m. on the two huge smokers in a screened-in patio attached to the stand. Art Franco starts the cooking on Friday mornings, Rich Goldfarb does Mondays, and they alternate Saturdays.

Vita Goldfarb, a high school teacher, said it would be tough to keep her day job, but she is confident the business has a future. And Lori Franco said the enthusiasm of the two husbands is crucial.

"With both of them having so much passion," she said, "I know they could make it work."

Cracker's

Jacksonville native John Roach got tired of traveling for his marine construction job and noticed a void in the Julington Creek restaurant offerings. It was 1994, before the area on the south side of Jacksonville developed.

So Roach and his wife, Mary, started Cracker's, and the tiny barbecue restaurant along San Jose Boulevard has become one of those quirky, classic American institutions that neighborhoods grow up around and take to heart.

The place has been so successful that the Roaches helped relatives open a barbecue restaurant in South Carolina last year. In July, the couple opened a restaurant in an area of St. Johns County that's on the cusp of development, expecting to duplicate their success in Julington Creek.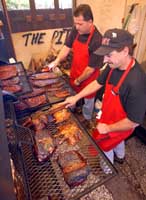 ---
Art Franco (left) and Rich Goldfarb, co-owners of Blackjack B-B-Q on Shirley Avenue, cook up barbecue for their take-out only business.
-- Don Burk/Staff
---
John Roach never operated a restaurant before the Julington Creek Cracker's. But his business acumen couldn't have been better illustrated than by his reasoning for opening the restaurant: "There was a need for a good eating joint there."

It was as simple as that.

Mary Roach was just finishing her nursing training at Florida Community College at Jacksonville when her husband came up with the idea. How did she react?

"Scared to death," she said. "I told my husband that he had lost his mind."

If he did, he was crazy like a fox. Mary Roach quickly quit her nursing job when she saw how successful Cracker's was becoming.

A good location is helpful to a successful restaurant. Offering reasonably priced food in good portions doesn't hurt any, either.

The public naturally seeks out small, independent restaurants, said Ron Wolf, professor of culinary arts at FCCJ.

"It gives them a sense of place and a sense of community and nostalgia," he said. "They can identify with the proprietors."

But the numbers don't lie. Three out of five independent restaurants close within five years of opening, Wolf said.

Lack of money and lack of business knowledge are the two biggest reasons for closings, he said. Wolf recommended that people interested in starting their own restaurant first work at one to learn the ropes.

John Roach worked 15 hours a day, nearly seven days a week for the first two years after Checker's opened.

"I had no idea what I was getting myself into," he said. "We had the line of people out the front door from the day we opened. It was intense for the first couple of years."

Despite the absence of any advertising, the business now has 35 employees, two restaurants, a thriving catering service, and the couple is looking for more locations.

"I think the only misconception is it ain't as easy as it looks," John Roach said. "Anyone who's successful had to work at it."

Staff writer Christopher Calnan can be reached at (904) 359-4404 or via e-mail at ccalnan
jacksonville.com.